Our Story
In 2000 KD Novelties founder, Kim Delgado, came across a book that reminded her of the Choose Your Own Adventure series books that she loved as a child. Choose Your Own Adventure series were children's game books published in the 1970s where the reader decided the outcome of the story. She remembered she read the books often because of how great she felt to be part of the story line. In 2002 KD Novelties was launched with its line of personalized children's books. Our mission is to promote literacy by providing personalized books and gifts that children will want to keep for a lifetime. Our goal is to touch children's lives through personalization, one child at a time.
KD Novelties… Your Child is the STAR of Each Story!
®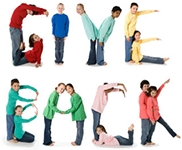 How We Give Back
We are proud to support, sponsor and partner with local and national organizations that make an impact in our community and in the lives of children. Children and families should not have to suffer hardships and wherever we can help and make a difference KD Novelties will be there.
Click here for information on How We Give Back.
Meet the Owner
Kim Delgado is a mother of three. She is an advocate for reading and literacy. KD Novelties is her dream and she is proud that it is a successful mom-owned business publishing and distributing personalized books by moms for moms to share with the children in their lives.
In her spare time, Kim volunteers in her local school district to help children who struggle with reading comprehension. She shares her expertise as a parent and reading tutor on KD Novelties' blog through reading and parenting tips. Kim also volunteers weekly at her local soup kitchen and serves on their Board of Directors, meeting the needs of the homeless and those in need.