Personalizing Children's Books and Gifts Since 2002
KD Novelties is a
Better Business Bureau accredited
family owned and operated business who takes great pride in providing customers with stellar service.
ALL
products sold on our site are personalized, assembled and shipped by us, so you don't have to wait long to receive your order. We do not sell third party products on our site to ensure you receive a high quality product, as quickly as possible and a pleasant shopping experience.
KD Novelties believes in educating children through personalization with our innovative assortment of personalized books and gifts. Studies show that when children are a part of what they read it builds self-esteem, confidence and promotes literacy. Personalized books teach while they entertain and make children feel special about themselves.
Our mission is to promote literacy by providing personalized books and gifts that children will want to keep for a lifetime. Our goal is to touch children's lives through personalization, one child at a time.
KD Novelties… Dedicated to Making Reading Fun!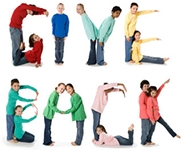 We are proud to support, sponsor and partner with local and national organizations that make an impact in our community and in the lives of children. Children and families should not have to suffer hardships and wherever we can help and make a difference KD Novelties will be there.
Click here for information on How We Give Back.