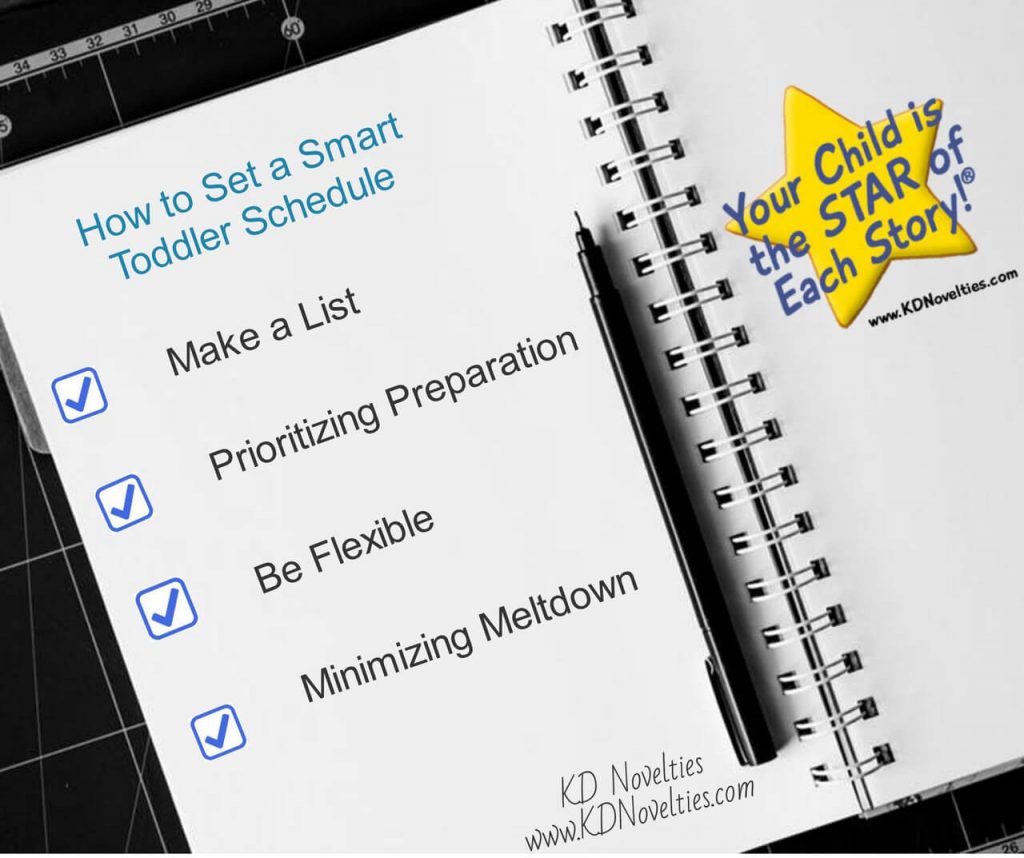 Toddlers are known for being testy. While they learn the ways of the world around them, they are constantly learning and exploring, experiencing new things, and processing everything that they are taking in. In addition to learning how to communicate effectively, as well as understand others, a lot of this can be overwhelming for both the child and the parent, which can make getting anything done a challenge.
When it comes to setting up a daily schedule, it helps to stick to a routine, but allow yourself some wiggle room.
Make a List
Knowing what you need to get done is key, but how you will go about doing that may change. Keeping a list can help you stay organized and on-task even when things run a little later than intended or other things come up. When it comes to basic everyday essentials like breakfast, bath time, bed time etc., it helps to have a routine and stick to it. Routines help toddlers adjust to certain tasks, but sticking to them too much without much deviation can be tricky for you and sometimes bothersome for kids, especially if they aren't sure what to expect or were expecting something else. In either case, routine activities should adhere to the same general rules every day, and all other activities and tasks can be scheduled around them. That way, if something doesn't go according to plan, you still have the bare essentials down so you can stay on top of things and your toddler can rest easy.
Prioritizing Preparation
With toddlers, it helps to be ready for anything. With kids, it can be hard not to find a single stretch of time, whether it be in the morning before breakfast or right after dinner, where it makes sense to try and get everything done at once. It may make sense at first, but this can conflict with a toddler's need for structure. Skipping a certain activity, especially if it is one that is part of your regular routine, it helps to have some alternatives in your back pocket to prevent any crankiness. Keep a diaper bag or other purse with some backup snacks, toys, and other tools that can help you in a pinch when you really need to get something done.
Be Flexible
It's hard to balance structure and routine with being busy and unpredictability, and it can be even more challenging when a toddler is thrown into the mix. If something needs to be changed, rescheduled, or forgotten all together, you want to know that your child will be able to handle it. Routine is good for kids, but they shouldn't grow too reliant on it either. Teaching them to be adaptable is important, so in between routine play times, snack times, and errands, make sure you add some variety to your daily routine whether it involves scheduling a playdate, going to a different park, or even alternating certain activities on different days.
Minimizing Melt-Downs
Sometimes, things come up and they can't be ignored. Whether it's a family emergency or a surprise visit from relatives, the change in routine can be difficult for your child to process if they are still very young. Providing some kind of set schedule and routine can help give kids a sense of normalcy, but it can also be harmful too. This is why no matter what happens, whether it is a an emergency or a small change of plans, it helps to sit down and talk with your child. They may not understand why things need to change and may feel uncomfortable as a result, but providing them with an explanation and some reassurance that things will be fine or certain things can be done later will help instill them with a sense of calm.
Remember, scheduling with a toddler can be difficult. Keep some basic building blocks in mind when it comes to routine, but keep things open, flexible and subject to change if need be. The everyday routine of some activities can give kids the balance and stability they need, but the exposure to the unexpected will help them in the present as well as later in life.